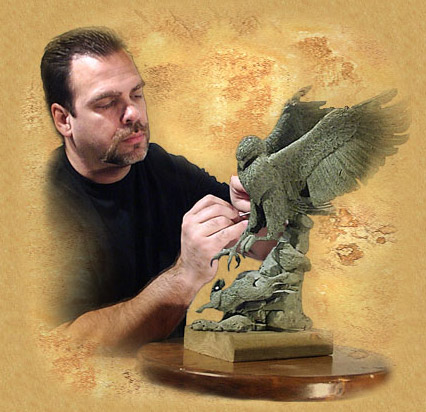 Dennis Franzen started in the business of commercial illustration in 1985 and has completed works for major U.S. agencies such as Leo Burnett, FCB and J. Walter Thompson. Some of the accounts included projects for Coca-Cola, Miller Brewing, Artline, Oldsmobile, Pillsbury and Pizza Hut.
Dennis Franzen's work has been featured on billboards, commercials, in print and in the movie "The Package" with Gene Hackman. His work includes commissioned work for U.S. businesses for the design of custom logos and trademarks.
One of Dennis' pieces titled, "America's Hero"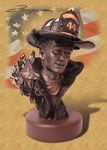 is an inspired sculpted figurine dedicated to those who gave their lives trying to save the 911 victims. This piece has been featured on the NBC hit TV series called "Chicago Fire". Some of the episodes that the piece can be prominently seen are as follows:


NBC's "Chicago Fire" Episode Titles:
"A Rocket Blasting Off" that aired on March 11th, 2014.

"Until Your Feet Leave the Ground" that aired on April 8th, 2014

"Arrest in Transit", (last 3 minutes) that aired on November 25th, 2014

(Click here for more information on this piece)
Franzen's sculpting career talent began years ago with pieces made for Roman Inc. who has classified the works as "The Dennis Franzen Collection", and has expanded since with contracts with the "Bradford Exchange" and the Minnesota based "WildWings" for wildlife-themed sculptures. His work ranges from the realistic to the abstract and has several bronze sculptures featured in various art galleries throughout the U.S.
Franzen Ltd. produces world class, original fine art sculptures, figurines, collectibles, wall murals, stained glass, mixed media paintings, abstract art, and laser metal art for both home and business. They are sold in both domestic and foreign markets. The company also accepts commission work for public and private businesses and institutions.

Home | Pumpkin Carvings | Tattoo Designs | Boat Wrap Designs | Sculptures | Photo Retouching | Illustration | Digital Painting | Wall Murals | Abstract | Laser Metal Art | Wood Burning | Gift & Awards | About the Artist | Contact Us


Site Developed by TTM Web Enterprises, Copyright 2004-2023, All Rights Reserved