| | |
| --- | --- |
| | |
Gift & Awards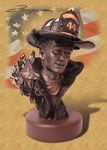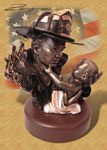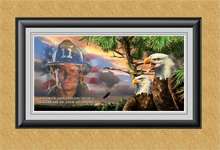 (+) Click image to Enlarge
This American hero demonstrates the bravery and self sacrifice of America's finest. While his very life is threatened, he saves lives as the flames consume everything around him. The calm spirit of compassion yet, resolute expression, emanates from his face as he ascertains the dangers that surround him.
This piece has been featured on the NBC hit TV series called "Chicago Fire". One of the episodes that the piece can be prominently seen is in the episode entitled "A Rocket Blasting Off" that aired on March 11th of 2014.
If you would like to order or find out the availability of the Fireman figurine or the high quality, mixed media print as an gift or as an award, please use the form below to submit your request along with your contact information.
( Quantities are extremely limited at this time! )
Field Items below marked with an * are required, others are not.
Or, if you prefer, you can also call or write us at the following address:
Franzen LTD
1609 Arlington Drive West
Hanover Park, IL 60133
Tel: (630) 830-8067
Email: info@dennisfranzen.com

Home | Pumpkin Carvings | Tattoo Designs | Boat Wrap Designs | Sculptures | Photo Retouching | Illustration | Digital Painting | Wall Murals | Abstract | Laser Metal Art | Wood Burning | Gift & Awards | About the Artist | Contact Us


Site Developed by TTM Web Enterprises, Copyright 2004-2023, All Rights Reserved